Electric Vehicle (EV) Resources
Electric Vehicle (EV) Resources
Electric Vehicles
From the Department of Energy:
The electric vehicle market is evolving rapidly, with models available in a range of vehicle types, from compact cars and sedans to sport utility vehicles (SUVs) and pickup trucks. Some EVs operate solely on batteries, while others are hybrid models with both an electric motor and an internal combustion engine. This section provides an overview of the types of EVs as well as types of charging infrastructure. It also discusses steps that States and localities have taken to prepare for increasing numbers of EVs by providing public charging stations.
Battery Electric Vehicles (BEVs)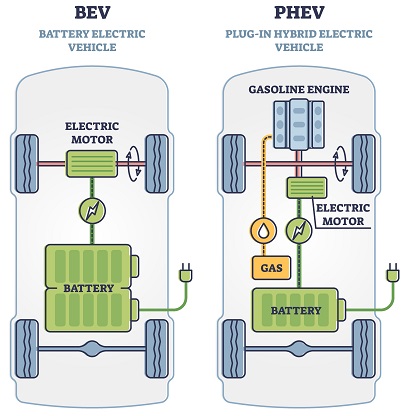 Battery electric vehicles (BEVs)—also referred to as "all-electric vehicles"—run on electricity only and are recharged from an external power source. They are propelled by one or more electric motors powered by rechargeable battery packs.
Almost all BEVs can travel at least 100 miles on a charge, and many new vehicles coming on the market offer an all-electric range of 200-300 miles or more.
Plug-In Hybrid Electric Vehicles (PHEVs)
Plug-in hybrid electric vehicles (PHEVs) also use batteries to power an electric motor and can be recharged from an external power source, but they incorporate a smaller internal combustion engine that can recharge the battery (or in some models, directly power the wheels) to allow for longer driving ranges.
PHEVs can usually drive moderate distances in "EV mode" using only the battery, typically from 20 to 50 miles in current models. This significantly reduces their gasoline use and emissions under typical driving conditions, since most trips are short.
PHEVs use 14 to 47 percent less fuel than conventional vehicles if their batteries are fully charged. When electricity is unavailable, PHEVs can run on gasoline alone.
Hybrid Electric Vehicles (HEVs)
Hybrid electric vehicles (HEVs) are powered by a combination of an internal combustion engine with electric motors running off a battery pack for greater efficiency. The batteries of an HEV cannot be recharged from an external source.
Fuel Cell Electric Vehicles (FCEVs)
Fuel cell electric vehicles (FCEVs) use a highly efficient electrochemical process to convert hydrogen into electricity, which powers an electric motor. FCEVs on the market today are not designed for recharging their battery from an external source. Rather, they are fueled with compressed hydrogen gas that is stored in a tank on the vehicle.


Locations of Electric Vehicle Charging Stations
The City of Athens has many locations for EV owners to charge and more are being planned!
| | | | |
| --- | --- | --- | --- |
| Name | Location | Cost | Type |
| Athens City Parking Garage | 15 East Washington Street | Charging Free, Metered Spaces $0.25 per 20 minutes | Two Level 2 Chargers |
| Athens City Pool L2 | 601 East State Street | $.075/hr for the first 4 hours and $1.00/hr for each thereafter | Two Level 2 Charging Ports at one Station |
| Athens City Pool DC Fast 62.5 kW | 601 East State Street | $0.15/minute for first 30 minutes and $0.25/minute for each minute thereafter | One Charging Station with a Combo port and a CHAdeMO port |
| Athens Public Library | 30 Home Street | Free Charging | Four Level 2 Chargers |
| Don Wood Automotive 62.5 kW | 810 East State Street | $5.00 for 15 minutes | Two Dc Fast Charge Stations with a Combo port and a CHAdeMO port |
| Little Fish Brewing Company | 8675 Armitage Road | Free Charging | One Level 2 Charger |
| OhioHealth O'Bleness Hospital | 65 Hospital Drive | Free Charging | Three Level 2 Chargers |
| Ohio University Lot 147 | 169 West Union Street | Pay Lot, Call 740-593-1917 for more information | One Level 2 Port |
| Ohio University Stocker Center Lot | 16-34 West Green Drive | Pay Lot, Call 740-593-1917 for more information | Two Level 2 Ports |
| Ohio University Baker Garage | Oxbow Trail | Pay Lot, Call 740-593-1917 for more information | Two Level 2 Ports |
| Ohio University Lot 111 | 28 West Green Drive | Pay Lot, Call 740-593-1917 for more information | Two Level 2 Ports |
| Ohio University Lot 132 | 100 Richland Avenue | Pay Lot, Call 740-593-1917 for more information | Two Level 2 Ports |
| Ohio University Peden Stadium | 200 Richland Avenue | Pay Lot, Call 740-593-1917 for more information | Two Level 2 Ports |
| Ohio University Lot 90 | 24 Race Street | Pay Lot, Call 740-593-1917 for more information | One Level 2 Port |